Alfred Basic Prep Course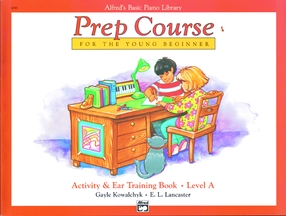 The Prep Course is a complete curriculum in six levels: Levels A, B, C, D, E and F, enough to cover about three years of study for the average student.

The Theory Books, Activity & Ear Training Books, Solo Books, Sacred Solo Books, Christmas Joy! books plus the Flash Cards are all correlated page-by-page with the Lesson Books. The use of "overlapping concepts" provides ample preparation for each new musical principle introduced throughout each level.
---
All titles listed below are normally available for IMMEDIATE DELIVERY.
Click on product CODES below for more information.
If you are a music teacher, please visit our "TEACHERS" page before leaving our website to apply for a 10% professional discount.
---
Code
Name
Price
AL21233 &nbsp
My Lesson Assignment Book - Alfred Prep Course
$6.95 &nbsp
AL2642 &nbsp
Alfred Lesson Assignment & Daily Practice Record Book
$3.99 &nbsp
AL3089 &nbsp
Alfred Basic Prep Course Level A - Lesson
$6.99 &nbsp
AL3093 &nbsp
Alfred Basic Prep Course Level A - Theory
$7.99 &nbsp
AL6476 &nbsp
Alfred Basic Prep Course Level A - Christmas Joy
$6.99 &nbsp
AL3091 &nbsp
Alfred Basic Prep Course Level A - Activity and Ear Training
$8.99 &nbsp
AL6483 &nbsp
Alfred Basic Prep Course Level A - Notespeller
$7.99 &nbsp
AL3095 &nbsp
Alfred Basic Prep Course Level A - Solo
$9.99 &nbsp
AL6431 &nbsp
Alfred Basic Prep Course Level A - Technic
$7.99 &nbsp
AL3103 &nbsp
Alfred Basic Prep Course Level A/B - Flash Cards
$8.95 &nbsp
AL3090 &nbsp
Alfred Basic Prep Course Level B - Lesson
$9.99 &nbsp
AL3094 &nbsp
Alfred Basic Prep Course Level B - Theory
$7.99 &nbsp
AL6477 &nbsp
Alfred Basic Prep Course Level B - Christmas Joy **LIMITED QUANTITIES**
$5.99 &nbsp
AL3092 &nbsp
Alfred Basic Prep Course Level B - Activity and Ear Training
$7.99 &nbsp
AL6484 &nbsp
Alfred Basic Prep Course Level B - Notespeller
$7.99 &nbsp
AL6192 &nbsp
Alfred Basic Prep Course Level B - Sacred Solos
$4.95 &nbsp
AL3096 &nbsp
Alfred Basic Prep Course Level B - Solo
$9.99 &nbsp
AL6434 &nbsp
Alfred Basic Prep Course Level B - Technic
$7.99 &nbsp
AL6226 &nbsp
Alfred Basic Prep Course Level C/F - Flash Cards (Levels C-F)
$8.95 &nbsp
AL3130 &nbsp
Alfred Basic Prep Course Level C - Lesson
$8.99 &nbsp
AL3128 &nbsp
Alfred Basic Prep Course Level C - Theory
$7.99 &nbsp
AL6478 &nbsp
Alfred Basic Prep Course Lev C - Christmas Joy
$6.99 &nbsp
AL3126 &nbsp
Alfred Basic Prep Course Level C - Activity & Ear Training
$7.99 &nbsp
AL5730 &nbsp
Alfred Basic Prep Course Level C - Notespeller
$8.99 &nbsp
AL6196 &nbsp
Alfred Basic Prep Course Level C - Sacred Solos
$5.50 &nbsp
AL3137 &nbsp
Alfred Basic Prep Course Level C - Solo
$7.99 &nbsp
AL6438 &nbsp
Alfred Basic Prep Course Level C - Technic
$7.99 &nbsp
AL3131 &nbsp
Alfred Basic Prep Course Level D - Lesson *Limited Quantities*
$6.99 &nbsp
AL3129 &nbsp
Alfred Basic Prep Course Level D - Theory
$5.95 &nbsp
AL6479 &nbsp
Alfred Basic Prep Course Level D - Christmas Joy
$5.99 &nbsp
AL3127 &nbsp
Alfred Basic Prep Course Level D - Activity and Ear Training
$5.95 &nbsp
AL5735 &nbsp
Alfred Basic Prep Course Level D - Notespeller **LIMITED QUANTITIES**
$6.99 &nbsp
AL6197 &nbsp
Alfred Basic Prep Course Level D - Sacred Solos
$5.50 &nbsp
AL3138 &nbsp
Alfred Basic Prep Course Level D - Solo **LIMITED QUANTITIES**
$7.99 &nbsp
AL6400 &nbsp
Alfred Basic Prep Course Level D - Technic
$6.99 &nbsp