---
Alfred's Basic All-in-One Adult Piano Course
---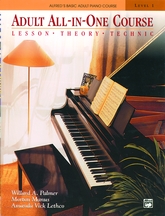 ---
Alfred's Basic Adult Piano Course, the most popular and successful piano course ever written, has just been given a new dimension. Along with the Lesson pages that teach the concepts and fundamentals of music, Theory and Technic pages have been added. Now, for the first time within one book, an adult beginner can learn all that is needed to perform successfully.
Lesson pages are designed to provide a basic course of instruction that contains all the concepts and fundamentals needed to perform
Theory pages give beginners an added understanding of music not possible in any other way. Every concept and principle introduced in the Lesson pages is reinforced. Additional drills in note recognition make this a valuable aid in developing reading skills. Important tips are presented that make learning chord progressions easier.
Technic pages offer suggestions for the proper care of your hands. Most adult beginners feel awkward at the keyboard because of stiffness in their fingers, hands and wrists. They have trouble with coordination, and they feel they could play much better if the muscular agility and flexibility of their hands could somehow be made to keep pace with their comprehension.
At the completion of this course, the student will have learned to play some of the most popular songs ever written while gaining a thorough understanding of the basic concepts of music.
---
All titles listed below for the
"Alfred Basic All-in-One Adult Piano Course"
are normally available for
IMMEDIATE SHIPMENT.
---
Code
Name
Price
AL12061 &nbsp
Alfred Color Coded Flash Cards
$8.99 &nbsp
AL1900 &nbsp
Alfred Basic Adult Piano Course Level 1 - Flash Cards
$9.95 &nbsp
AL2642 &nbsp
Alfred Lesson Assignment & Daily Practice Record Book
$3.99 &nbsp
AL5753 &nbsp
Alfred All-in-One Adult Piano Course - Level 1 Bk
$19.99 &nbsp
AL5756 &nbsp
Alfred All-in-One Adult Piano Course - L1 Book w/CD
$20.99 &nbsp
AL11282 &nbsp
Alfred All-in-One Adult Piano Course - Lev1 CD only
$11.99 &nbsp
AL16505 &nbsp
Alfred's Basic Adult Piano Course: Greatest Hits Book 1
$9.99 &nbsp
AL17385 &nbsp
Alfred All-in-One Adult - Level 1 Merry Christmas!
$7.99 &nbsp
AL14514 &nbsp
Alfred All-in-One Adult Piano Course - Level 2 Book
$17.99 &nbsp
AL14534 &nbsp
Alfred All-in-One Adult Piano Course - Level 2 Bk w/CD
$20.99 &nbsp
AL16506 &nbsp
Alfred Basic Adult Piano Course Level 2 - Greatest Hits
$9.99 &nbsp
AL18128 &nbsp
Alfred All-in-One Adult - Level 2 Merry Christmas!
$7.99 &nbsp
AL14540 &nbsp
Alfred All-in-One Adult Piano Course - Level 3 Book *Limited Quantities
$15.99 &nbsp
AL3088 &nbsp
Alfred Basic Adult Piano Course Level 1 - Finger Aerobics
$8.99 &nbsp
AL36617 &nbsp
Alfred Adult All-in-One Bk 3+CD
$19.99 &nbsp