Alfred All in One Piano Course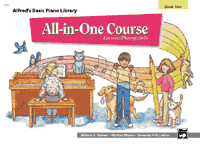 The All-in-One Course takes all of the pages from Lesson Books 1A, 1B and 2 of Alfred's Basic Piano Library plus selected pages from our Theory, Recital and Fun Books and combines them into a sequential five book series: Books 1, 2, 3, 4 & 5.

Because the pages are integrated sequentially, you can now assign consecutive pages from one single book instead of several, which may be more convenient for both teacher and student; plus, students who do not need as much reinforcement can progress more quickly.
With fewer pages being offered from the Theory, Recital and Fun Books, the depth of reinforcement gained from the use of these supplementary books will necessarily be diminished. In certain situations, this would not be recommended. But by now offering the All-in-One Course, a new option is added to Alfred's Basic Piano Library-one that makes it the most flexible, complete and convenient of any piano course.
---
All titles listed below are normally available for IMMEDIATE DELIVERY.
If you are a music teacher, please visit our "TEACHERS" page before leaving our website to apply for a 10% professional discount.
Code
Name
Price
AL12061 &nbsp
Alfred Color Coded Flash Cards
$5.99 &nbsp
AL2642 &nbsp
Alfred Lesson Assignment & Daily Practice Record Book
$3.99 &nbsp
AL5740 &nbsp
Alfred's All-in-One Course - Book 1
$7.99 &nbsp
AL5741 &nbsp
Alfred's All-in-One Course, Bk 2
$7.99 &nbsp
AL5742 &nbsp
Alfred's All-in-One Course - Book 3
$6.95 &nbsp
AL14512 &nbsp
Alfred's All-in-One Course - Book 4
$6.95 &nbsp
AL14513 &nbsp
Alfred's All-in-One Course - Book 5
$5.95 &nbsp