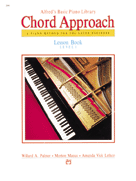 Alfred's Basic Chord Approach provides a magnificient musical selection that will capture your young adolescent students' youthful exuberance while providing a solid lesson structure.
The Chord Approach series is a highly-effective method of instruction in two levels that introduces chord playing faster than in the regular Alfred's Basic Piano Library series. Students begin playing triads in Level 1, rather than waiting until later levels. By combining an eclectic reading approach with chord playing, students are able to enjoy playing fuller and more involved pieces much faster.
---
If you are a music teacher, please visit our "TEACHERS" page before leaving our website to apply for a 10% professional discount.
Code
Name
Price
AL12061 &nbsp
Alfred Color Coded Flash Cards
$5.99 &nbsp
AL2642 &nbsp
Alfred Lesson Assignment & Daily Practice Record Book
$3.99 &nbsp
AL2644 &nbsp
Alfred Basic Chord Approach Level 1 - Lesson
$8.99 &nbsp
AL2646 &nbsp
Alfred Basic Chord Approach Level 1 - Theory
$8.99 &nbsp
AL2652 &nbsp
Alfred Basic Chord Approach Level 1 - Christmas
$6.99 &nbsp
AL2650 &nbsp
Alfred Basic Chord Approach Level 1 - Solo
$8.99 &nbsp
AL2654 &nbsp
Alfred Basic Chord Approach Level 1 - Technic
$6.99 &nbsp
AL2648 &nbsp
Alfred Basic Chord Approach Level 1 - Duets
$6.50 &nbsp
AL2645 &nbsp
Alfred Basic Chord Approach Level 2 - Lesson
$7.95 &nbsp
AL2647 &nbsp
Alfred Basic Chord Approach Level 2 - Theory
$7.99 &nbsp
AL2653 &nbsp
Alfred Basic Chord Approach Level 2 - Christmas
$6.99 &nbsp
AL2651 &nbsp
Alfred Basic Chord Approach Level 2 - Solos
$7.50 &nbsp
AL2699 &nbsp
Alfred Basic Chord Approach Level 2 - Technic
$6.99 &nbsp
AL2649 &nbsp
Alfred Basic Chord Approach Level 2 - Duets
$5.95 &nbsp