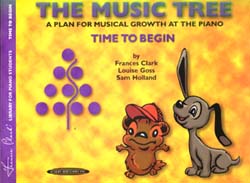 The Music Tree is the elementary section of the Frances Clark Library for Piano Students. It consists of four levels (Primer Level , Level 1, Level 2A, and Level 2B) with each level consisting of a textbook and an activities book used together. These companion volumes provide a comprehensive plan for musical growth at the piano and prepare for the early intermediate materials that follow at level 3.
This latest revision of The Music Tree combines the best of the old and the new - a natural child-oriented sequence of learning experiences that has always been the hallmark of Frances Clark materials, combined with new music and unprecedented variety and appeal.
Great pedagogy and great music - a winning combination!
---
If you are a music teacher, please visit our TEACHERS page before leaving our website to apply for a 10% professional discount.
---