Faber & Faber Piano Adventures
Piano Adventures® has set a new standard for quality educational publications. This innovative and exciting method series continues to enjoy an unprecedented response from teachers and students around the world.

Each level includes Theory, Performance, Technique & Artistry, Popular Repertoire, and Christmas Books correlated with the Lesson Book.
Piano Adventures® features:
combines the strengths of intervallic reading, multi-key, and Middle C approaches
offers a wide variety of sounds and styles with many optional teacher duets
entertains and delights students with beautiful color illustrations and a carefully conceived layout

background accompaniments are now available on CD or MIDI diskette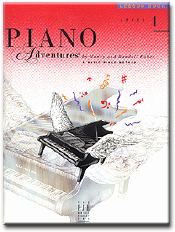 ---
Code
Name
Price
HL00420217 &nbsp
Faber & Faber PracticeTime Assignment Book
$5.99 &nbsp
HL00420133 &nbsp
Practice & Progress Lesson Notebook
$5.95 &nbsp
HL00420218 &nbsp
Piano Adventures Flashcards In-a-Box
$8.99 &nbsp
HL00420259 &nbsp
My First Piano Adventures-Yng Beg Lesson A (Pre-Reading) w/ CD
$9.95 &nbsp
HL00420260 &nbsp
My First Piano Adventures-Yng Beg Writing A (Pre-Reading)
$6.95 &nbsp
HL00001471 &nbsp
My First Piano Adventures - Christmas A **OUT OF STOCK**
$4.95 &nbsp
HL00420261 &nbsp
My First Piano Adventures-Yng Beg Lesson B w/ CD
$9.95 &nbsp
HL00420262 &nbsp
My First Piano Adventures-Yng Beg Writing Book B **LIMITED QUANTITIES**
$6.95 &nbsp
HL00001472 &nbsp
My First Piano Adventures - Christmas B
$5.50 &nbsp
HL00420263 &nbsp
My First Piano Adventures-Young Beg Lesson C **LIMITED Quantities**
$9.95 &nbsp
HL00420264 &nbsp
My First Piano Adventures Writing Book C **LIMITED QUANTITIES**
$6.95 &nbsp
HL00001482 &nbsp
My First Piano Adventures Christmas C
$5.50 &nbsp
HL00420124 &nbsp
Faber & Faber PreTime Piano Christmas
$5.50 &nbsp
HL00420159 &nbsp
Faber & Faber PreReading Christmas
$6.50 &nbsp
HL00420141 &nbsp
Faber & Faber PreTime Kids' Songs (Primer)
$5.99 &nbsp
HL00420126 &nbsp
Faber & Faber PreTime Piano Classics (Primer)
$5.50 &nbsp
HL00420137 &nbsp
Faber & Faber PreTime Piano Hymns **LIMITED QUANTITIES**
$5.50 &nbsp
HL00420156 &nbsp
Faber & Faber PreTime Piano Jazz & Blues - Limited Quantities
$6.50 &nbsp
HL00420151 &nbsp
Faber & Faber PreTime Piano Popular **OUT OF STOCK**
$5.99 &nbsp
HL00420198 &nbsp
Faber & Faber PreTime Piano Rock 'n Roll
$5.50 &nbsp
HL00420168 &nbsp
Faber & Faber Pno Adventures Primer - Lesson Book - 2nd Ed.
$9.99 &nbsp
HL00420169 &nbsp
Faber & Faber Pno Adventures Primer-Theory Book - 2nd Ed.
$8.99 &nbsp
HL00420068 &nbsp
Faber & Faber Piano Adventures Primer Level - CD
$10.95 &nbsp
HL00420205 &nbsp
Faber & Faber Piano Adventures Primer - Christmas **LIMITED QUANTITIES**
$5.99 &nbsp
HL00420170 &nbsp
Faber & Faber Pno Adventures Primer-Performance Bk-2nd Ed.
$8.99 &nbsp
HL00420189 &nbsp
Faber & Faber Pno Adventures Primer -Tech & Artistry-2nd Ed.
$7.99 &nbsp
HL00420328 &nbsp
Faber & Faber Piano Adventures Sightreading Book - Primer
$6.95 &nbsp
HL00420234 &nbsp
Faber and Faber Piano Adventures Primer-POPULAR Repertoire
$7.99 &nbsp
HL00420171 &nbsp
Faber & Faber Pno Adventures Level 1-Lesson Book- 2nd Ed
$9.99 &nbsp
HL00420172 &nbsp
Faber & Faber Piano Adventures Level 1-Theory Book - 2nd Ed.
$8.99 &nbsp
HL00420069 &nbsp
Faber & Faber Piano Level 1 - CD (2nd Edition)
$10.95 &nbsp
HL00420111 &nbsp
Faber & Faber PlayTime Piano Christmas
$6.99 &nbsp
HL00420173 &nbsp
Faber & Faber Pno Adventures Level 1-Performance Bk-2nd Ed.
$8.99 &nbsp
HL00420190 &nbsp
Faber & Faber Pno Adventures Lev 1-Tech & Artistry-2nd Ed.
$7.99 &nbsp
HL00420235 &nbsp
Faber & Faber Piano Adventures Level 1- POPULAR REPERTOIRE
$7.99 &nbsp