Faber and Faber Accelerated Piano Adventures
for the Older Beginner
by Nancy and Randall Faber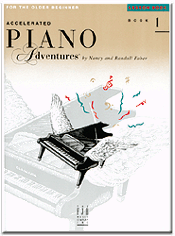 Featuring the proven, pedagogical approach set forth in the basic piano method, Accelerated Piano Adventures® for the Older Beginner continues the tradition of learning music through discovery, creativity, and adventure.

Book One of the accelerated series combines the Primer Level and Level One of the basic Piano Adventures® method. The student pianist will become acquainted with music by the great composers, along with traditional folk songs and original pieces by Faber & Faber.
The series includes Theory, Performance, Christmas, and Technique & Artistry books correlated to the Lesson Books.
A ideal series for beginning students ages 11 and up.
---
All titles listed below are normally available for IMMEDIATE DELIVERY.
If you are a music teacher, please visit our "TEACHERS" page before leaving our website to apply for a 10% professional discount.
Code
Name
Price
FJH1434 &nbsp
The FJH Keyboard Chord Encyclopedia
$20.95 &nbsp
HL00296450 &nbsp
Piano Student's Guide to Effective Practicing
$7.99 &nbsp
HL00420227 &nbsp
Faber & Faber Accelerated Piano Adventures - Book 1 Lesson
$11.99 &nbsp
HL00420083 &nbsp
Faber & Faber Accelerated Piano Adventures -Level 1 CD
$14.95 &nbsp
HL00420228 &nbsp
Faber & Faber Accelerated Piano Adventures - Bk 1 - Theory
$9.99 &nbsp
HL00420230 &nbsp
Faber Older Beginner - Book 1 - Christmas **LIMITED QUANTITIES**
$7.50 &nbsp
HL00420229 &nbsp
Faber & Faber Accelerated Piano - Bk1 - Performance **OUT OF STOCK**
$7.99 &nbsp
HL00420250 &nbsp
Faber & Faber Accelerated Pno Adventures Bk 1-Tech/Artistry
$9.99 &nbsp
HL00420252 &nbsp
Faber and Faber Accelerated - Bk 1- POP PIANO REPERTOIRE
$6.95 &nbsp
HL00420231 &nbsp
Faber & Faber Accelerated Piano Adventures - Book 2 Lesson
$10.99 &nbsp
HL00420253 &nbsp
Faber & Faber Accelerated Piano Adventures - Bk 2 - Theory **LIMITED QUANTITIES**
$8.99 &nbsp
HL00420091 &nbsp
Faber & Faber Accelerated Piano Adventures - Level 2 CD
$9.95 &nbsp
HL00420232 &nbsp
Faber & Faber Accelerated Piano Adventures Bk 2 - Perform. **LIMITED QUANTITIES**
$7.99 &nbsp
HL00420265 &nbsp
Faber & Faber Accelerated Pno Adven Tech/Artistry Bk2
$9.99 &nbsp
HL00420254 &nbsp
Faber & Faber Accel Pno Adven- Pop Pno Repertoire BK2
$7.99 &nbsp