Faber and Faber Piano Methods
---
Faber and Faber Piano Adventures®

by Nancy and Randall Faber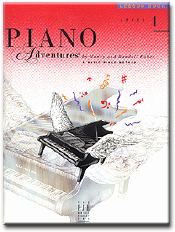 A Basic Piano Method by Nancy and Randall Faber, Piano Adventures has set a new standard for quality educational publications. This innovative and exciting method series continues to enjoy an unprecedented response from teachers and students alike.
The series includes Theory, Performance, Technique & Artistry, Popular Repertoire, and Christmas Books, all correlated with the Lesson Books.

It combines the strengths of intervallic reading, multi-key, and Middle C approaches, and offers a wide variety of sounds and styles with many optional teacher duets.

Piano Adventures entertains and delights students with beautiful color illustrations and a carefully conceived layout.

Faber and Faber Piano Adventures
---
Accelerated Piano Adventures®
for the Older Beginner

by Nancy and Randall Faber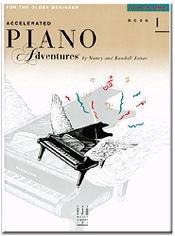 Featuring the proven, pedagogical approach set forth in the basic piano method, Accelerated Piano Adventures for the Older Beginner continues the tradition of learning music through discovery, creativity, and adventure.

Book 1 of the Accelerated series combines the Primer Level and Level One of the Basic Piano Adventures ® and is the PERFECT CHOICE for the TEENAGE STUDENT. Book 2 combines Levels 2A and 2B of the Faber and Faber Basic Piano Adventures and is a continuation of Book 1 in the Accelerated Piano Adventures.





Faber and Faber Accelerated Piano Adventures

---
Adult Piano Adventures®

by Nancy and Randall Faber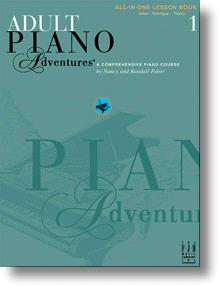 Adult Piano Adventures is a complete course in reading, playing, and listening to music. With its logical and effective approach to note-reading, Book One provides the basic skills to play hundreds of melodies by the completion of the book. The enjoyment of familiar songs is a hallmark of Piano Adventures®. You will find world-famous classic and popular melodies, as well as folk songs from around the world, jazz and blues favorites, and beloved spirituals.
You will learn to play chords and gain an understanding of basic harmony while developing reading skills. This series includes lessons, technique, and theory together in each volume for ease of use.
---
PreTime to BigTime Piano
Supplementary Library
arranged by Nancy and Randall Faber
The PreTime to BigTime Piano Supplementary Library offers appealing arrangements in six graded levels, designed to motivate the student. Each level offers a full range of styles to choose from: Children's Songs, Christmas, Classics, Favorites, Hymns, Jazz, Jazz and Blues, Jewish Favorites, Popular, Ragtime & Marches, Rock 'n Roll.
| | | |
| --- | --- | --- |
| PreTime® Piano | - | Primer Level |
| PlayTime® Piano | - | Level 1 |
| ShowTime® Piano | - | Level 2A |
| ChordTime® Piano | - | Level 2B |
| FunTime® Piano | - | Level 3A - 3B |
| BigTime® Piano | - | Level 4 |

Faber PreTime to BigTime Piano Supplementary Library
---
The Developing Artist Piano
Supplementary Library

Compiled and edited by Nancy and Randall Faber




A comprehensive set of literature books for the serious-minded student. Music offered is authentic keyboard repertoire. Series consists of six Piano Literature books, four Piano Sonatina books, and Selections from the Notebook for Anna Magdalena by Bach.


Faber and Faber Developing Artist Supplementary Library
---
Allegro Music Online maintains a full stock of all the methods listed above and offers fast delivery on all orders.If you are a piano teacher ordering instructional materials for your students, you should qualify for our 10% Professional Discount. Please visit our Teachers page for details.Click on any of the links shown above, or on the Store Directory at left, for the product list and pricing on the Faber and Faber piano method of interest to you.
---