Bastien Adult Piano Method
by Jane Smisor Bastien, Lisa Bastien, and Lori Bastien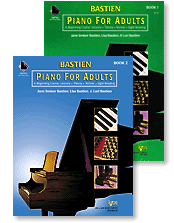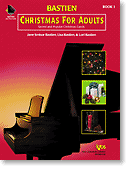 ---
Everything your adult beginner needs in one book - with accompaniment CDs available!
Lesson pages teach the fundamentals of music.
Reinforcement pieces apply new concepts and review old concepts.
Theory pages instill understanding and appreciation of music.
Technic pages develop good hand positions, coordination, and finger independence.
Sight Reading exercises build note reading skills.
Challenge Pieces inspire students to strive for higher levels of achievement.
Historical Biographies provide interesting details about the master composers' music and lives.
CD Accompaniments maximize motivation.
Answer Keys allow students to correct their own work.
Music selected specifically for adult enjoyment.
Chord Vocabulary provides a solid foundation for harmonization and improvisation skills.
Gradual Pacing for adults ensures student success.
---
All titles listed below are normally available for IMMEDIATE DELIVERY.
If you are a music teacher, please visit our "TEACHERS" page before leaving our website to apply for a 10% professional discount.