Music Gifts and Novelties
---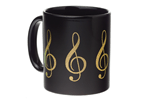 Whether it's for a special birthday, Christmas, graduation, or an anniversary - you might find just the right gift for the musician in your life from the selections below.
Gifts for that talented young child you'd like to encourage, gifts for the piano teacher at the end of the year, gifts for Mom or Dad, gifts to let your "significant other" know how much he or she means to you.
The season for gifts extends throughout the entire year!
---