Alfred's Basic All-in-One Sacred Course
Fulfilling Fellowship… with pupils age 7 and up.
Designed for Christian students, the All-in-One Sacred Course incorporates the conceptual core and appealing music and activities from Alfred's All-in-One Course with lyrics and illustrations that reflect spiritual and inspirational themes. While learning basic musicianship skills, students are also exposed to Christian values and principles as well as Biblical lessons. Many other books from the appropriate levels of Alfred's Basic Piano Library may be used as supplements, such as Composition, Ear Training, Repertoire or Sight Reading. Students will be proud to perform songs from the All-in-One Sacred Course for family members, at fellowship gatherings, and at church school events. Teachers will be confident that when asked to incorporate religious music into piano lessons, they can do so in a thoughtful manner.
At the completion of Book 5, students will be ready to go directly into Level 3 of Alfred's Basic Piano Course.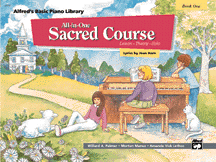 ---
If you are a music teacher, please visit our "TEACHERS" page before leaving our website to apply for a 10% professional discount.